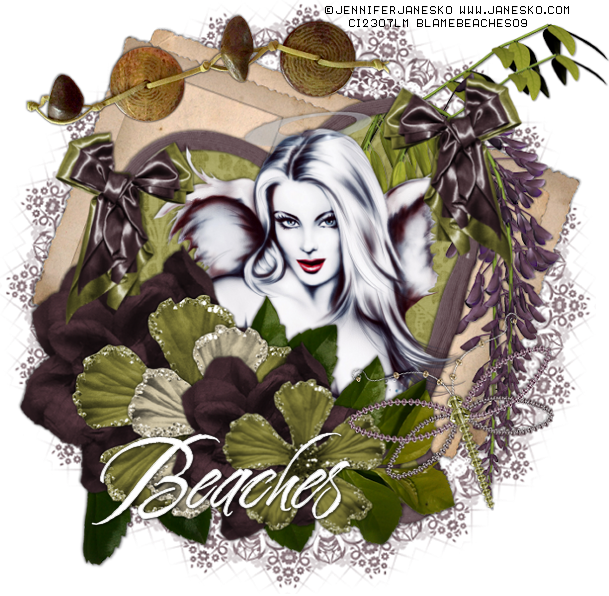 Another tut for you today!
Enjoy!
All comments welcome!
♥
Click tag to get full view.
You must have a working knowledge of PSP.

I am using the beautuful artwork of Jennifer Janesko.
You must purchase a license to use this art.
You may do so at CILM
HERE
Supplies:

1 tube of choice & Font of choice.
I used Cherish.
Mask is from EssexGirl Page 22,
Stencil Flower Circle
HERE
TY! ♥
Another Fabby FTU Kit can be found at
Pimp'd Tag Scraps,
HERE
I just love her kits! :) ♥
An Awesome Freebie, called Memory Lane.
Thanks Again Pimptress! xoxox.
Thank you for sharing your wonderful
talent with the psp and scrapping community.
Please when downloading leave a little bit
of love and a thank you, it only takes
a sec while waiting for the upload in 4shared
to say thank you or to leave a comment!
OK, get comfy for this one!
Grap a cuppa! LOL
Open your supplies in PSP. Open a new
canvas 700x700, you may resize/crop later.
Floodfill white. Add a new raster layer.
Selections, select all. Resize & Copy and
paste a paper of choice from the kit into
selection. Select none. Apply the mask,
and on your layers pallette merge mask group.
Paste the frame3 as a new layer. Dropshadow.
Duplicate it and image>mirror.
Move the top one to the left a little.
Now X out your masked layer and the white background,
and merge visable. Un X those layers.
Click on the postcard frame we just merged
and rotate to the right 20. Now, paste the
heart frame as a new layer. Grab your
magic wand and click inside the large opening.
Paste a paper of choice as a new layer,
and drag it under the frame. Paste the
wisteria from the kit and paste as a
new layer placing it to the right of the frame.
Dropshadow, & duplicate it, and make one
smaller than the other. Resize and place
the greenery & some of the other flowers
to the bottom left of the frame. Dropshadow.
Lookin' good now!...
Next, resize one each of the green and
purple bows, Dropshadow. Placing them
on each side of the frame. See above.
Add the beaded string to the top, dropshadow.
And then add the dragonfly. I mirrored mine.
Dropshadow him too. Now, click on your
heart frame layer, and add your tube of choice.
Dropshadow. See mine above or make it
your own! As always mine is just a guide.
Have fun with it! Now X out the bottom layer
and your mask layers. Merge visable the
remaining layers. Un X the hidden layers.
Position all layers nicely. Image Resize 80-90%
Bicubic resample all layers checked.

Hint: You can X out the bottom white layer
before saving to have a transparent bkg for forums..

Add your Artist © and your Name and WooT!! You Are Done!
Hope you enjoyed my tutorial & thanks for trying it! :)
C Ya Soon!!
♥
Written by Beaches March 1 2009
Any resemblance to another tutorial is purely coincidental
.