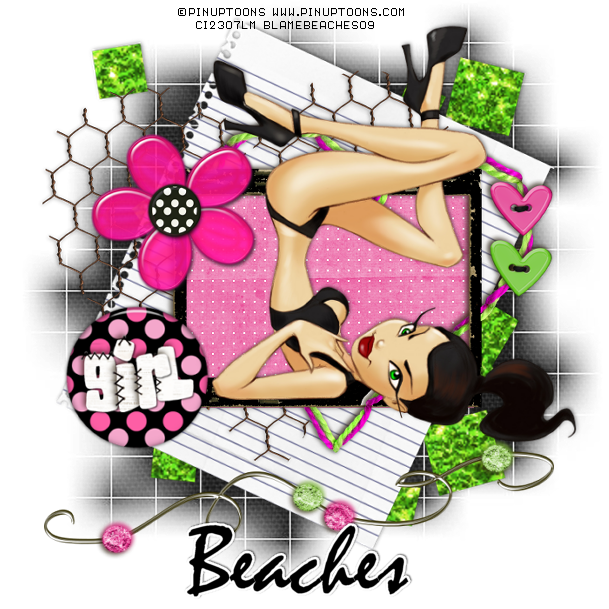 T.G.I.F.
A Quickie before I Go to work.
Enjoy!
♥
Click tag to get full view.
You must have a working knowledge of PSP.

I am using the beautuful artwork of Pinuptoons.
You must purchase a license to use this art.
You may do so at CILM
HERE
Supplies:

1 tube of choice & Font of choice.
I used Mistral.
Mask of choice or the one I used,
Weescotslass mask 84 Found
HERE
TY Hunny! ♥
A Fabby FTU Kit can be found at
Scrapbug
Scroll down a little.
An Awesome Freebie,
Pretty, Scrappy, Girly
Thanks Jas! xoxox. ♥
This is easy! Ready?
Open your supplies in PSP. Open a new
canvas 700x700, you may resize/crop later.
Floodfill white. Add a new raster layer.
Selections, select all. Resize & Copy
and paste a paper from the kit into selection.
Select none. Apply the mask, and on your
layers pallette merge mask group. Resize
and add the frame as a new layer. Using
your freehand selection tool, set to rectangle
trace around the frame. Grab another paper
from the kit and paste as a new layer.
Selections>invert>delete on your keyboard.
Drag paper under frame layer. I added some
effects>texture>weave to this paper layer.
Settings are 2,10,1 Weave and gap color
white, fill gaps checked. Dropshadow frame.
Resize the Girl button and paste as a new
layer. Also add the pink flower. Place to your
liking. Resize and add the notebook paper as
a new layer, just above the masked layer.
Rotate it to the right 25% Dropshadow.
Next resize and add the green glitter doodle
as a new layer. Add your tube of choice. Dropshadow.
I aslso added the beaded string at the bottom.
See mine above or make it your own! As always
mine is just a guide. Now X out the bottom layer
and your mask layer. Merge visable the remaining
layers. Un X the hidden layers. Position all
layers nicely. Image Resize 80-90%
Bicubic resample all layers checked.

Hint: You can X out the bottom white layer
before saving to have a transparent bkg for forums.

Add your Artist © and your Name and WooT!! You Are Done!
Hope you enjoyed my tutorial & thanks for trying it! :)
Until next time!
♥
Written by Beaches March 6, 2009
Any resemblance to another tutorial is purely coincidental.