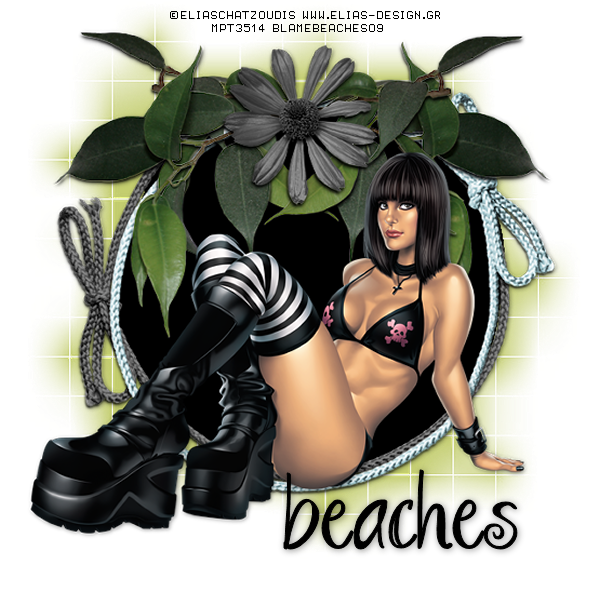 Another quickie tut for you.
I just love these frames.
Enjoy.
♥
Click tag to get full view.
You must have a working knowledge of PSP.

I am using the beautuful artwork of
Elias Chatzoudis & Barbara Jensen.

You must purchase a license to use this art.
You may do so at MPT
HERE
or for Barb's art You may do so
HERE
Supplies:

1 tube of choice & Font of choice.
I used TK Doodle for the first tag &
JackieO for the second one.
.
Mask of choice or the one I used,
Weescotslass mask 84 Found
HERE
TY Hunny! ♥
Fabby Cluster frames Called SAGA.
Can be found at: Pimp Your Tags:
HERE
An Awesome Freebie!!
TY Again Pimptress!! ♥
Another Easy Peasy Tut! Ready?
Open your supplies in PSP. Open a new
canvas 700x700, you may resize/crop later.
Floodfill white. Add a new raster layer.
Selections, select all. Resize and add the
frame as a new layer. I made two tags
with this frame for this tut. For the second
one, all you do is go to image>flip. Using
your freehand selection tool, trace around
the string of the frame. Now go to layers>
and add a new raster layer. Grab your
floodfill tool, it looks like a paint can..
and chose a color in your color pallete, from
the frame or the tube you will use. I used black.
Floodfill that layer, and select none. Drag
under your frame layer. Now click on your
white background layer, and again add a new
raster layer. Floodfill this layer with another
color from your tag. Apply the mask, and
on your layers pallette merge mask group
.
Add your tube of choice as a new layer, and
dropshadow. Place it where it looks best.
And That's it! See mine above or make it
your own! As always mine is just a guide.
Now X out the bottom layer and your mask
layer. Merge visable the remaining layers.
Un X the hidden layers. Position all layers nicely.
Image Resize 80-90% Bicubic
resample all layers checked.

Hint: You can X out the bottom white layer
before saving to have a transparent bkg for forums.

Add your Artist © and your Name and
WooT!! You Are Done!
Hope you enjoyed my tutorial & thanks for trying it!
Until next time!
♥
Written by Beaches March 17, 2009
Any resemblance to another tutorial is purely coincidental