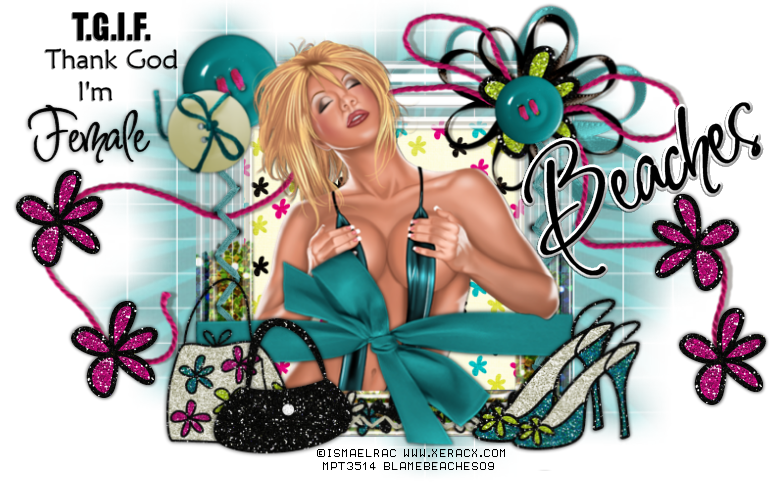 Something Different!
LOL
Enjoy! ♥

Click tag to get full view.
You must have a working knowledge of PSP.

I am using the beautuful artwork of Ismael Rac.
You must purchase a license to use this art.
You may do so at MPT

Supplies:

1 tube of choice & Font of choice.
I used Inspiration.
Mask of choice or the one I used,
Weescotslass mask 84
Found
HERE
TY ♥Hunny!

FTU Kit T.G.I.F.
Found
HERE
TY!♥
I don't know how long this will
be available, so you better hurry!

Ready??!!

Open your supplies in PSP. Open a new
canvas 800x600, you may resize/crop
later. Floodfill white. Add a new raster
layer. Selections, select all. Resize &
Copy and paste a paper of choice from
the kit into selection. Select none.
Apply a mask, and on your layers pallette
merge mask group. resize and paste the
Teal frame as a new layer. Now resize
and paste the cluster frame as a new layer.
Do not dropshadow. lol grab your
selection tool set to rectangle, and trace
around the opening of the cluster frame.
Resize another paper and paste as a
new layer. And then selections>invert
and delete on your keyboard, drag it under
your cluster frame. Now the fun part, as
always! :) Resize some of the elements of
choice and paste as new layers around
your tag/frame. Have fun with it! I added
some flowers, buttons, handbags and
shoes and a ribbon. Dropshadow those.
resize and add some stiches to the
sides of the frame. Click inside your
frame & Add your tube of choice, dropshadow,
and position where you want it inside the
frame. See above. Dupicate the tube,
And drag the copy above the frame layer.
On the top tube layer...Erase all parts
hanging over you want. See mine above
or make it your own! As always mine is
just a guide. Arrange all layers to your
liking. Now X out the bottom layer and
your mask layer. Merge visable the
remaining layers. Un X the hidden layers.
Position all layers nicely. Image Resize 80-90%
Bicubic resample all layers checked.
I then added TGIF, Thank God I'm Female!

Hint: You can X out the bottom white layer
before saving to have a transparent bkg for forums..

Add your Artist © and your Name and WooT!! You Are Done!
Hope you enjoyed my tutorial & thanks for trying it! :)
Until next time!
♥
Written by Beaches February 21, 2009
Any resemblance to another tutorial is purely coincidental.