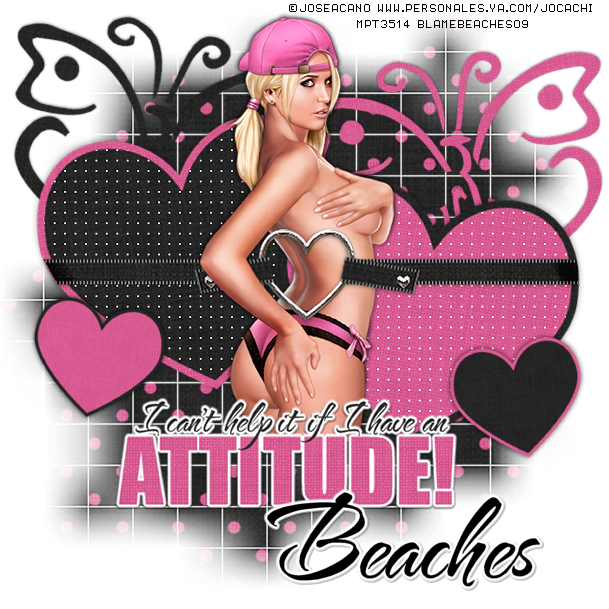 Click tag to get full view.
You must have a working knowledge of PSP.
I am using the beautuful artwork of Jose Cano.
You must purchase a license to use this art.
You may do so at MPT

Supplies:

1 tube of choice & Font of choice.
I use TheNautiGal.
Mask of choice or the one I used,
Weescotslass mask 84 Found

HERE
TY Hunny!♥

FTU Scrapkit - Pink & Black Attitude
By Kristin @ Wicked Scraps
HERE
TY Sweetie!♥ xoxxo

Thank you for sharing your wonderful
talent with the psp and scrapping community.
Please when downloading leave a little
bit of love and a thank you, it only
takes a sec while waiting for the upload
in 4shared to say thank you,
or to leave her a shoutout!

Easy Peasy Tut...Let's do It!!

Open your supplies in PSP.
Open a new canvas 700x700, you may
resize/crop later. Floodfill white.
Add a new raster layer. Selections,
select all. Copy and paste a paper
of choice into selection. Select none.
Apply the mask, and on your layers
pallette merge mask group. Paste one
each of the butterflies at the top of
your canvas, rotate one to the left a
little and one to the right. See above.
Dropshadow. Now place one each of
the hearts on each side and do the
same thing, rotating the opposite way,
dropshadow those. Click inside
each heart and apply some effects>texture>weave.
Settings are 1,10,1 Weave and gap
color white, fill gaps checked.
Now again add one each of the
hearts making them a bit smaller and
add towards the bottom rotating
them a little in the opposite direction
than before. Dropshadow. Paste a
heart ribbon as a new layer, resize as
needed, and erase any parts
hanging over the sides using your freehand
selection tool. Dropshadow. Add your
tube of choice and drag it below
the heart ribbon, place to your liking,
dropshadow. Duplicate tube and drag
the duplicated layer above the ribbon
and erase any parts you like. I left her
arm hanging over. Add the Attitude
wordart and dropshadow. I added some
gradient glow to mine. See mine as an
example or make it your own!
As always mine is just a guide.
Arrange all layers to your liking.
Now X out the bottom layer and your
mask layer. Merge visable the
remaining layers. Un X the hidden layers.
Position all layers nicely. Image Resize
80-90% Bicubic resample all layers checked.

Hint: You can X out the bottom white layer
before saving to have a transparent bkg for forums..

Add your Artist © and your Name
WooT!! You Are Done!

Hope you enjoyed my tutorial & thanks for trying it! :)
Until next time!

Written by Beaches February 1, 2009
Any resemblance to another tutorial is purely coincidental.