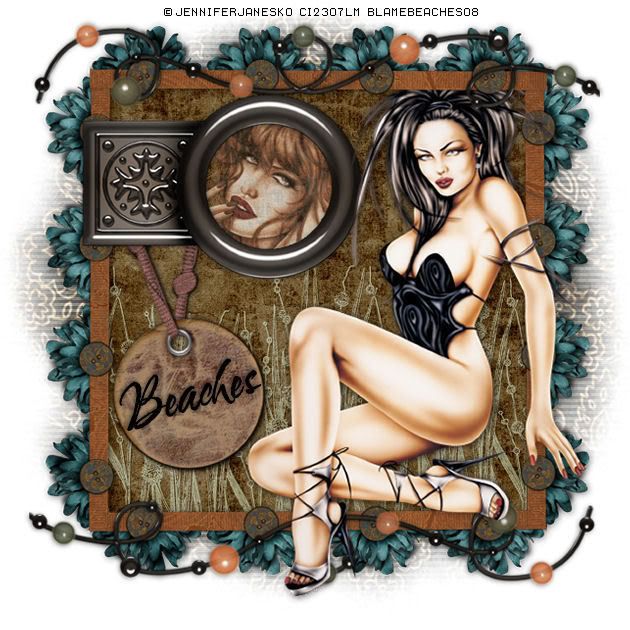 I am using the beautuful artwork of Jennifer Janesko.
You must purchase a license to use her art,
you may do so at CILM
Supplies Needed 2 tubes & Font of choice.
I used WaterbrushRob,
a pay font I can not share. Sowwy.
My Supplies:
HERE

I have included my masked layer if you want to use it. :) Other
Supplies are a freebie Odds and Ends 6 From
pamleforsdesigns.blogspot.
HERE
TY!

Ready, Set, Let's Go!
Open all your supplies and minimize for now.
Open a new canvas 700x700, you may resize later.
Floodfill white. Copy and paste the masked
layer over the white background.
Now add the flower border and resize to your liking,
as this will be used as your frame.
Move to the right of your canvas, image>duplicate>mirror.
Duplicate again and image>rotate>to the right 90.
Duplicate this layer and image>flip.
Now you should have a frame, arrange nicely
and x out white background, and masked layer.
merge visable. Dropshadow if you like. Un X all layers.
Activate frame layer. Now grab your magic wand
click inside frame and Selections>modify>expand 8.
Paste as a new layer the brown paper layer.
Selections>invert> hit delete on your keyboard,
drag this layer under your frame layer.
Resize the hindge and paste as a new layer,
using magic wand click inside the circle,
selections>modify>expand 8 and paste a tube of choice,
I used the face of one.
Dropshadow & Arrange to your liking, and invert delete.
Drag under your hindge layer.
I lowered the opacity a little. It's up to you.
Add the brown circle tag, place where you like,
see mine above. Add the beads as a new layer,
drag to the bottom of the frame, dropshadow.
Duplicate this layer and image>flip.
Add your tube of choice, and dropshadow.
Arrange all your layers how you think they look best,
X out the white background layer and merge visable.
Un X background. Position your merdged layer nicely.
Image Resize 80-90% if needed, Bicubic resample all layers checked.

Add your Artist © and your Name and WooT!! You Are Done!
Hope you enjoyed my tutorial & thanks for trying it! :)

Written by Beaches March 12th 2008
Any resemblance to another tutorial is purely coincidental.