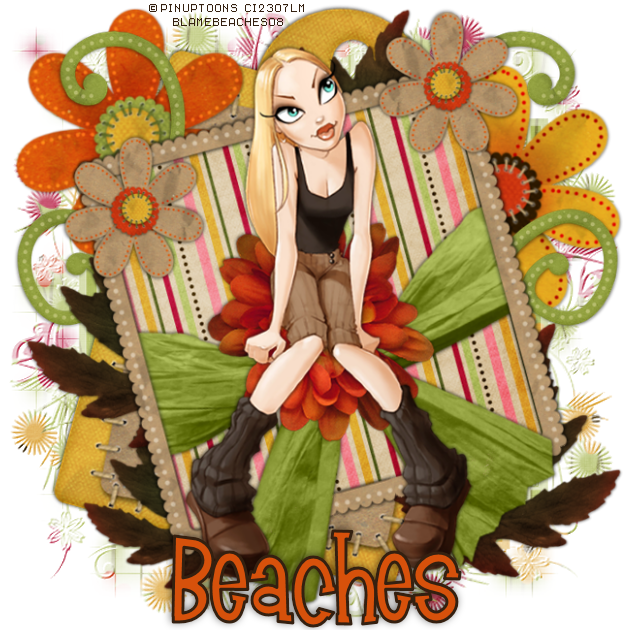 I am using the beatuful artwork of
Rion Vernon/Pinuptoons@ CILM
Supplies needed:
Tube of choice & A Freebie scrapkit from Scrap Goo called
Sweet September.
HERE
Thank you!

Ready, Set, Let's Go! This is a
Very Quick & Easy Peasy Tutorial.
Open your supplies and minimize for now.
Open a new canvas 700x700,
you may resize later. Floodfill white.
Resize and Copy and paste a paper of choice
as a new layer. Mask of choice the paper layer,
I can't remember where I got the one I used.
Merge group on the mask in layer pallette.
Copy and paste the Sweetsept tag 1 on
top the masked layer. Image rotate left 15.
Dropshadow. Copy and paste the frame.
Grab your magic wand and click inside the frame,
selections>modify>expand by 4. Copy and paste
another paper layer, selections>invert>hit delete
on your keyboard, and drag paper layer under
the frame layer. Rotate both of these layers
to the left 15 also. Resize & Copy and paste
the swirls and flowers of choice, place to
your liking. I have mine under the frame layer,
and under the paper layer and above the
tag layer. Paste a ribbon of choice, rotate &
dropshadow, erase away sides hanging over.
Place the other accents where you choose.
I added some leaves. Add your tube of
I have mine so she's sitting on a flower.

Add Artist © and your Name,
Font I used for my name is called Fandingo.
I hope you enjoyed my Tutorial!
Enjoy your New Tag!

Written by Beaches September 13th 2008
Any resemblence to another tutorial is purely coincidental.