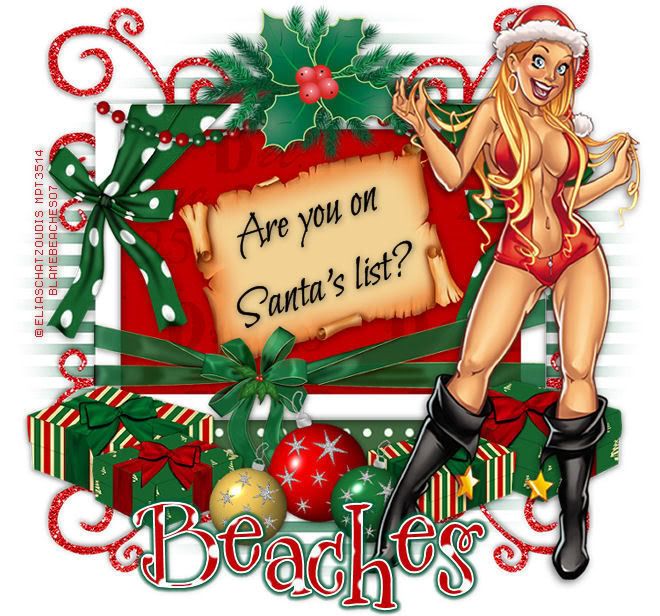 You must have a working knowledge of PSP.
Supplies needed:My Supplies
HERE
Scrapkit needed is called Holly Jolly by Clarey,
You can find it
HERE
Thanks hun! You can visit Clarey at her
site @ bagzofscrapz @yahoogroups.com

Ho Ho Ho! Let's Go!
Open your supplies and minimize for now.
Open a new canvas 700x700, you may resize later.
Floodfill white.Add a new raster layer colorize to
match your tube or kit supplies.Go to layers,
mask from image, and apply mask , invert data
selected.In your layers pallette, ont the mask,
right click and merge group.Choose 2 papers from
the kit, set your forground and backgrounds to
the papers.One will be your border, the other the fill.
Grab your ellipse tool Width 15. Make a nice size
circle in the middle of your canvas, drop shadow
of choice.Select a frame from the kit, I chose
frame 4, copy and paste onto your circle.Your circle
should be just a tad bigger than the frame.
Grab your magic wand , click inside frame, selections,
modify, expand 5.Grab the holly jolly paper 12
or paper of choice, and paste as new layer
onto selected frame.Selections, invert, delete
on your keyboard.Drag that paper layer
under your frame. Add dropshadow to frame.
Find the scroll paper in the kit, and resize to
fit in the middle of your frame,rotate
15 to the left, see mine for example. Dropshadow.
Add my wordart or text of choice to the scroll paper.
Add your bow, holly, presents, orniments or
whatever you want and resize to your liking.
You can rotate them around, whatever looks good..
Click on your mask layer, and add glitter doodles
of choice from kit.Place one to the top right,
light dropshadow, duplicate, image, mirrior.
Duplicate, image flip, duplicate, image mirror..
Add your tube of choice, position it where it looks best.
Add artist © information, and your watermark.
Add your name and dropshadow of choice,
I used Eye Candy, Gradient Glow.
I resized mine 87%, bicubic, all layers checked.

Walla! You are done!
I hope you enjoyed my Tutorial!
Enjoy your new tag & Happy Holidays!

Written by Beaches November 15th 2007
Any resemblance to another tutorial is purely coincidental.