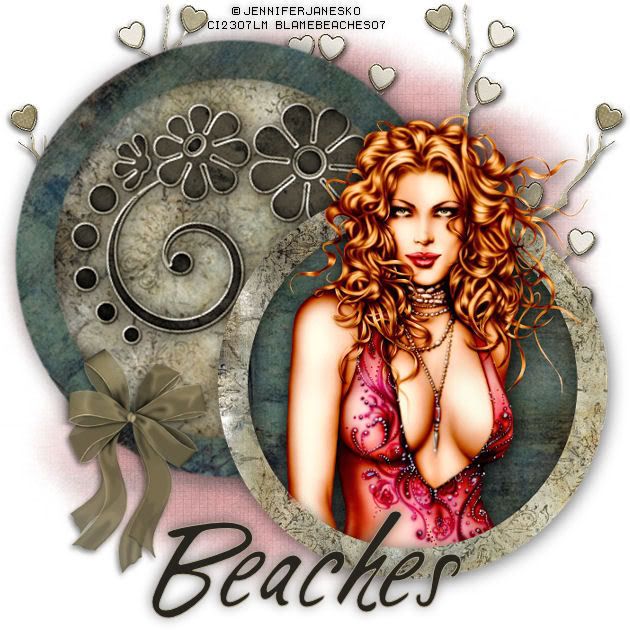 You must have a working knowledge of PSP.
I am using the Beautiful artwork of Jennifer Janesko,
You must have a license to use her work,

I have gained these scraps from various Yahoo groups.
If these are yours please let me know so I
can give you credit or take them down.
Mask of choice or the one I have supplied.

Let's Go!

Open the supplies in PSP and minimize for now.
Open a new canvas 700x700 floodfill white.
Add a new raster layer and floodfill with a
color to match your tube or tut supplies.
Copy mask from supplies & and paste mask as new image.
Apply mask from image to paper layer.
Merge group on your mask layer.
Grab your Ellipse tool width about 30.
Make your forground color the pattern
of one of the scrap papers, and background null.
Draw a good size circle. Convert to raster layer.
This should give you an open ring.
Next make your background color the other scrap paper,
and make your forground null. Draw a circle layer
a bit smaller to place under your ring layer
we just made. Convert to raster. Now repeat
the steps and make another circle ring
and circle layer but Reversing the papers.
See mine for example. Arrange to your liking ,
and be sure circles are placed under the ring layers.
Add a big light blurry dropshadow to the ring layers.
I used V2, H2, Opacity 50, Blur 27.
Copy the brown metal flower scrap and place inside
one of the ring layers. Arrange or rotate to liking, dropshadow.
Place tube of choice into ring layer of the other circle,
and drag below the ring layer, dropshadow.
Erase any parts you may have hanging over.
Copy and paste the bow where desired, dropshadow of choice.
Now paste the tree layer for a doodle effect on the
white bottom layer below all your circle layers,
duplicate, mirror, position wherever you think they look good.
Arrange all layers to your liking and x out
white background layer, and merge visable. Un X bottom layer.
Position your merdged layer nicely.
Image Resize 88-90% Bicubic resample all layers checked.

Add your Artist © and your name and Bam! You Are Done!
Hope you enjoyed my tutorial & thanks for trying it! :)

Written by Beaches Decemberber 20th 2007
Any resemblance to another tutorial is purely coincidental.