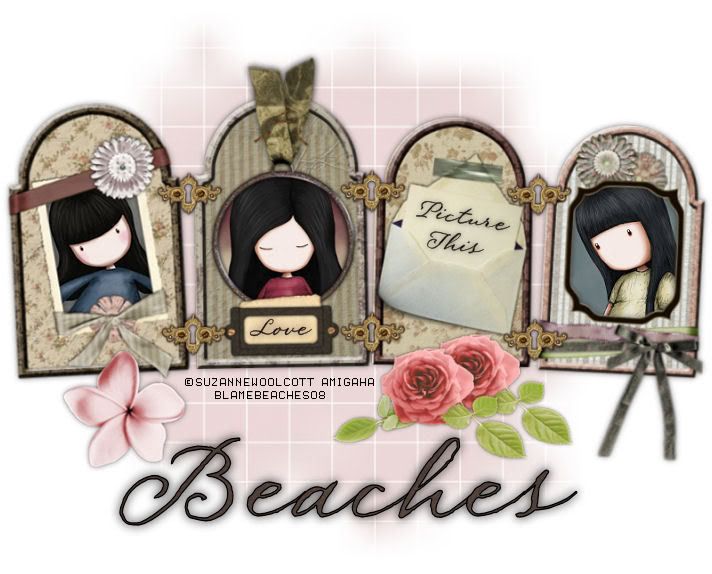 I am using the beautuful artwork of Suzanne Woolcott.
3 tubes of choice & Font of choice.
I used PegsannaHMK, a pay font I can not share.
Supplies needed: Scrap pieces from NBK NicNic Blogspot
From the Vintage Collection.
Vintage Frames, it's a Free download.
HERE
& A Few Flowers of Choice,
Mask of choice for your background.

Ready, Set, Let's Go!
Open your supplies and minimize for now.
Open a new canvas 800x700, you may resize/crop later.
Floodfill white. Add a new raster layer,
floodfill a color to match the frames and your tubes,
apply your mask of choice, and on your layers
pallette merge group. Now open each frame and
resize to your liking, Paste as new layers so they
all fit across your canvas, Using smartsize keeps
them looking crisp. :) Now resize the gold hinge
to make it small enough to fit inbetween each
picture frame, see mine above. I rotated the
frames on the end outwards just a little. It's up
to you how you want your frames to look.
Now once you have all your frames and hinges in place,
X out white background layer and mask layer
and on layers merge visable.
Un X your white background and mask layer.
Move the frames layer up a little, allowing room for
your flowers and your name later.
Now on your frame layer grab your magic wand
click inside the first frame, Selections>modify>expand 5
Apply your tube or image of choice,
Selections>invert>delete on your keyboard.
Repeat the same steps for the remaining 2 frames.
Apply dropshadow of choice to the frame,
and again X out mask and background layer,
and mrege visable. Un X those layers again.
Now arrange your layers, add flowers or embelishments of choice.
Merge all now. Image Resize 80-90%
Bicubic resample all layers checked.
Now add text of choice to your frames
with the envelope, and label.

Add your Artist © and your Name and WooT!! You Are Done!
Hope you enjoyed my tutorial & thanks for trying it! :)

Written by Beaches February 20th 2008
Any resemblance to another tutorial is purely coincidental.