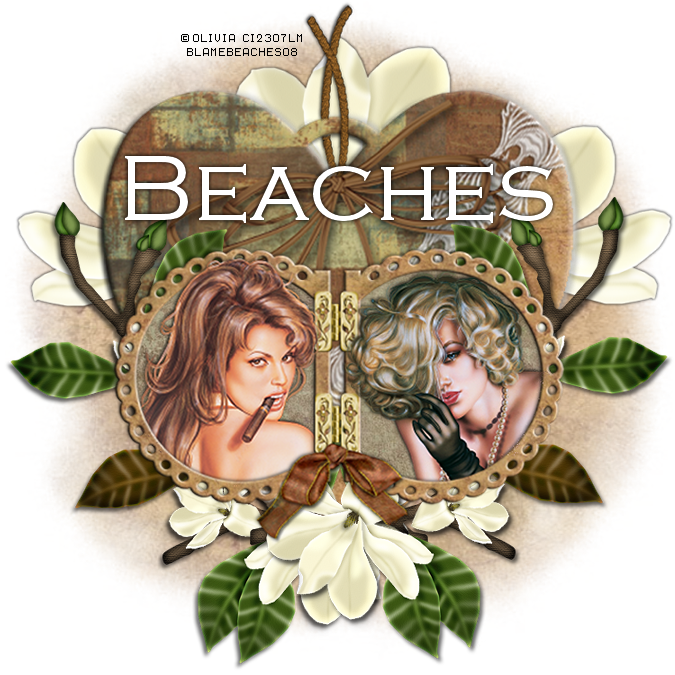 I am using the beautuful artwork of Olivia.
You must purchase a license to use her art, you may do so at Cilm.
Supplies needed, 2 tubes of choice & Font of choice.
(I used Copperplate Gothic) A Freebie Scrapkit
Called Muted Earth from Swheat Creations,
you can download from her blog
HERE
. Thank you hunny!

Open your supplies and minimize for now.
Open a new canvas 700x700, you may resize later.
Floodfill white. Add a new raster layer and select all.
Paste a paper of choice into selection. Select none.
Apply Mask of choice and merge group on mask layer.
Paste one of the hearts as a new layer.
I resized mine by 150% smartsize.
Paste one of the flower twiggs, move to one side.
Dropshadow. Image>Duplicate>mirror.
Resize the white flower and paste as new layer.
Place them around the top of your heart
and drag below heart layer. See mine above as example.
Paste the brown rope at the top of
the heart as a new layer. Erase part of it so
it looks like it's attached to the heart.
Dropshadow. Resize the double frame and paste
as a new layer above the heart. Grab your Magic Wand,
while holding down the shift key.
click inside both open areas of the frame.
Selections>modify>expand 5. Paste a paper layer of choice,
then selections>invert>delete on your keyboard.
Drag paper layer under the frame. Dropshadow frame.
Add your tubes of choice, and erase
any parts hanging over. Or use your freehand selection tool.
Arrange all your layers to your liking.
Image Resize 85-90% Bicubic resample all layers checked.

Add your Artist © and your Name and WooT!! You Are Done!
Hope you enjoyed my tutorial & thanks for trying it! :)

Written by Beaches April 28th 2008
Any resemblance to another tutorial is purely coincidental.