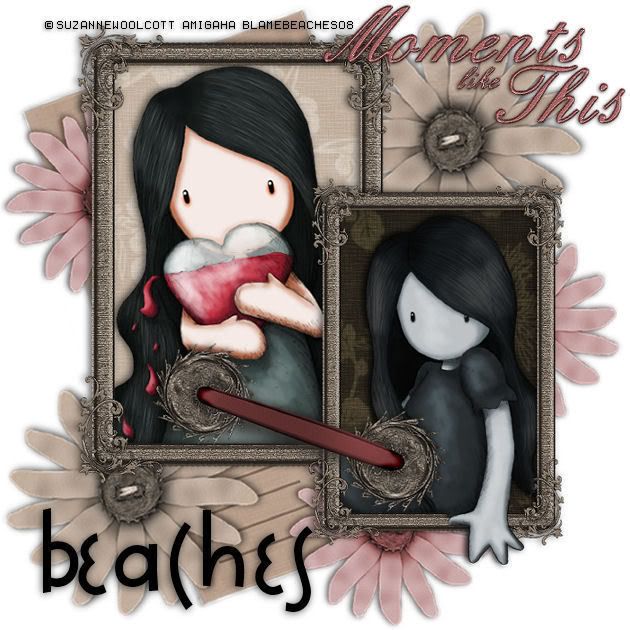 I am using the beautuful artwork of Suzanne Woolcott.
2 Tubes of choice & my supplies I have gathered
these supplies from various groups, if they are yours,
please contact me so I can give you credit or take them down.
Supplies Needed:
HERE

Ready, Set, Let's Go!
Open your supplies and minimize for now.
Open a new canvas 700x700, you may resize later.
Floodfill white. Copy and paste the lined paper layer.
Copy the larger frame layer. Grab your magic wand,
click inside frame. Go to selections>modify>expand 5.
Copy & paste one of your paper layers onto frame layer.
Selections>invert> delete on your keyboard.
Drag paper layer below frame layer, colorize to match your tube.
Add tube of choice, dropshadow. drag below
frame layer and erase any parts hanging over.
Close off the white background layer and the
lined paper layer, and merge visable the frame,
paper and tube. Hide this layer now also. Repeat these
steps with the smaller frame and your other
paper and tube choice. Dropshadow, and merge visable.
Unhide all layers now, and arrange to your liking.
See mine above. Copy and paste the flowers
all around below the frame layers. Resize duplicate,
and colorize if needeed. Paste the riveted
button ribbon on top of the frame layers to make it
look like its connecting the two frames.
Add the wordart or words of your choice to the top right of the tag.
Resize all layers 90% bicubic.
Add Artist © and your Name, Font I used for my name is called Solea-Bold.

I hope you enjoyed my Tutorial!Enjoy your New Tag!
Written by Beaches January 5th 2008
Any resemblance to another tutorial is purely coincidental.