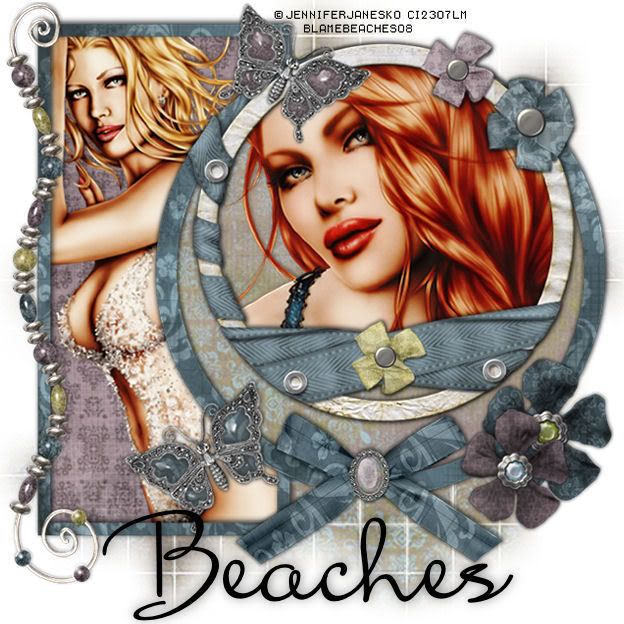 I am using the Beautiful artwork of Jennifer Janesko,
You must have a license to use her work,
which you can purchase at CILM
Supplies needed: 2 tubes of choice. "Pewter"
Font I used was MrsBlackfort.
Can not supply, it's a pay font.

Let's Go!
Open the supplies in PSP and minimize for now.
Open a new canvas 700x700 floodfill white.
resize and add a paper of choice as a new layer
from the kit. Apply mask and merge group in
layers pallette. Open three different papers of
choice and resize. In your materials pallette,
set your background to one of the papers I have
supplied, forground null. Using your preset tool,
set to rectangle, draw out a rectangle, convert
to raster & move to the left of the canvas.
Switching papers, making it your foreground,
background null, Draw an outline for the rectangle,
width 18. Convert to raster & Dropshadow.
Add tube of choice inside rectangle layers,
dropshadow. I used a standing tube.
Erase any parts hanging over. Using your Elispe tool,
swiching papers again.. draw out a medium
sized circle, see mine above. Convert to raster
layer & Dropshadow of choice. Now set your
forground layer to a different paper, background null.
Width set to 20. Draw out another circle around
the first one, convert to raster, and dropshadow.
Now place these where you think they look best
or like mine above. Resize and copy and paste
the round frame from the kit. Place it so it looks
like its attached to the cirlce we just made.
Click inside frame with the magic
wand>selections>modify>expand by 8.
Paste your tube or image of choice,
I used a large face. >selections>invert>delete on
your keyboard. Dropshadow the tube & frame
and drag your tube below the frame layer.
Now simply resize some embelishments of choice,
placing them where you think they look best
all around your canvas, and dropshadow.
Arrange all layers to your liking and x out white background layer,
and merge visable. Un X bottom layer.
Position your merdged layer nicely.
Image Resize 80-90% if needed,
Bicubic resample all layers checked.

Add your Artist © and your Name and WooT!! You Are Done!
Hope you enjoyed my tutorial & thanks for trying it! :)

Written by Beaches February 15th 2008
Any resemblance to another tutorial is purely coincidental.