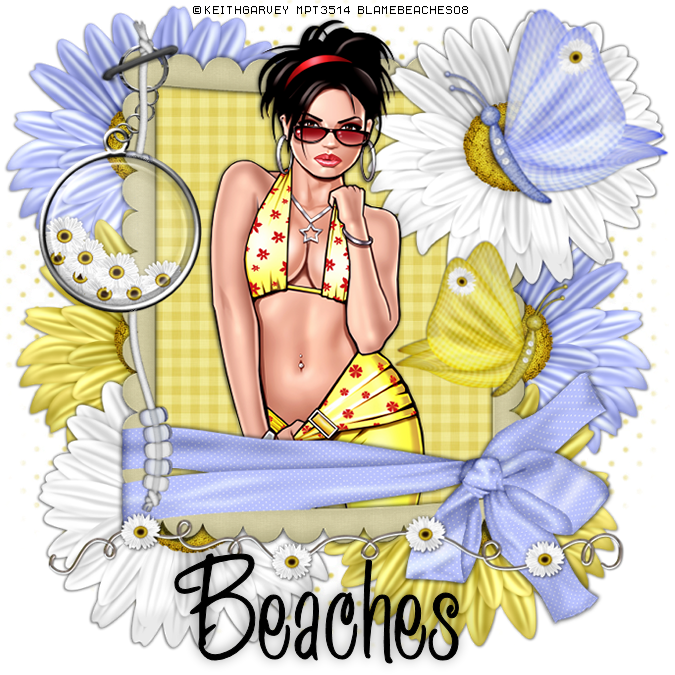 I am using the beautuful artwork of Keith Garvey.
You must purchase a license to use his art,
you may do so at MPT
Supplies needed, 1 tube of choice & Font of choice.
I used (Crawford). Scrapkit by Krissy'sScraps.
A Freebie kit called Daisy Whispers.
You may download it
HERE.
Thank You Sweetie!

Another Easy Peasy Quick TUT
Open your supplies and minimize for now.
Open a new canvas 700x700, you may resize later.
Floodfill white. Add a new raster layer and select all.
Paste a paper of choice into selection. Select none.
Apply Mask of choice and merge group on mask layer.
Now Paste a frame of choice as new layer.
Using magic wand, select inside frame.
Selections>modify>expand 6.
Paste paper of choice,
and selections>invert>delete on your keyboard.
Drag paper layer under the frame. Dropshadow frame.
Add some flowers & butterflys of choice
around the frame, Dropshadow. Add any Embelisments
of choice also. See mine above for example.
I resized a few. Make it your own!
Add your tube of choice so she's inside the frame,
and dropshadow. Erase any parts you
dont want hanging out at the bottom.
Image Resize 85-90%
Bicubic resample all layers checked.

Add your Artist © and your Name and Bam!! You Are Done!
Hope you enjoyed my tutorial & thanks for trying it! :)

Written by Beaches May 17th 2008
Any resemblance to another tutorial is purely coincidental.