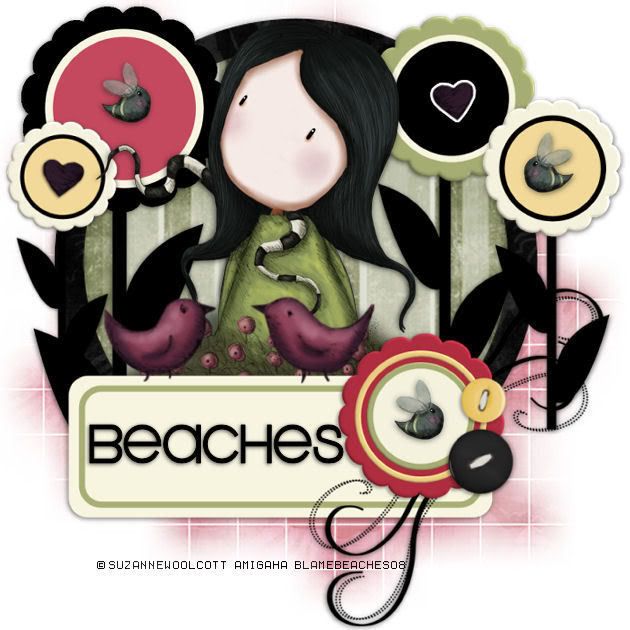 I am using the beautuful artwork of Suzanne Woolcott.
You must purchase a license to use her art.
1 standing tube of choice & Font of choice. I used Kravitz.
Supplies can be found at Nanna's Attic,
A Freebie called Simple Beauty, found:
HERE
Scroll down a bit.
& Mask of choice for your background.
I used Weescotslass mask 84 Found
HERE
TY!

This will be quick & easy!...Ready, Set, Let's Go!
Open your supplies and minimize for now.
Open a new canvas 700x700, you may resize/crop later.
Floodfill white. Resize and paste a paper
of choice of choice from the kit, as a new layer &
apply your mask of choice, and on your layers
pallette merge mask group. Open two different
papers of choice and resize. Colorize if needed.
In your materials pallette, set your background
to one of the papers I have supplied, forground null.
Using your preset tool, Elispe, draw out a circle,
convert to raster & move to the center of the canvas.
Switching papers, making it your foreground,
background null, Using Elispe again, Draw an outline for the circle,
width 20. Convert to raster & Dropshadow.
Arrange it over your first circle layer.
Now resize the flowers, making them all
different sizes and place them around your circle.
Add Your tube of choice and erase
any parts hanging over if needed. Resize the big tag
and place it at the bottom of the circle over your tube layer.
Dropshadow. I added some bees and birds which
are also Suzanne Woolcott's Artwork.
Its up to you what you want to decorate your tag with.
Maybe just some hearts , butterflys or your own wording. :)
Arrange all your layers how they look best with your tube,
and X out your white background layer.
Merge visable. Un X background.
Position your merdged layer nicely.
Image Resize 80-90% if needed, Bicubic resample all layers checked.

Add your Artist © and your Name and WooT!! You Are Done!
Hope you enjoyed my tutorial & thanks for trying it! :)

Written by Beaches February 28th 2008
Any resemblance to another tutorial is purely a coincidence.